Normals Unlimited and the Early Years
---
The Ridgeway Collective Interviews Itself

[Gregory Hallock] I got ahold of Frank Zappa's Freak Out album when I was quite young and just started following the composers and names in the liner notes. WABX-FM radio [in Detroit] was also great. They introduced me to the Firesign Theater which was a theatrical, surreal, and hilarious radio troupe.

I had a friend whose older brother was Warren Leach. He was one of the first hippies in Detroit, and he began a local group called Normals Unlimited. Their motto was "Do Something Truly Absurd Today." They went around to high schools and did comedic plays. One was called The Human Vegomatic; it taught people how to chop salads with their hands. They also went to big-time wrestling matches at Cobo Arena, where they'd give the worst wrestlers a McDonald's coupon for 99 cents. It was a stunt to get attention and get up onstage. They talked their way into a lot of stuff—and made the newspapers. Brian Bukantis was a member of Normals Unlimited—and a partner of Leach. Bukantis founded the magazine Goldmine (a successful record collecting magazine founded in 1974 that was sold in 1983 to Krause Publications). Leach would go to the Grande Ballroom [in Detroit] and record all the concerts, and he'd also take photos of the bands and light shows. Then he'd replay the entire shows with recordings and slideshows for me and the neighborhood kids since we were too young to attend.

[Carl Aniel] I read National Lampoon in high school, but everything cool I learned about came through Greg. He turned me onto the Dadaists and Surrealism—and he was fully into those scenes before he got to Macomb.


Carl Aniel


Donna Penner

[Gregory Hallock] Mike, Jeff, and I all grew up on the same street: Lincoln, in St. Clair Shores, which is bizarre. Aniel and Wilson lived at the Ridgeway house in St. Clair Shores. We all met at Macomb College. My first year at Macomb was '72 and I took a photography course.

[Donna Penner] Most of our paths crossed multiple times before we met as "Ridgeway" since Jeff, Greg, Mike, Larry, and I all attended Lakeshore High School together in St Clair Shores and we already knew each other, although not well.

I only attended Macomb for one year but at that point it seems we started crossing paths again, via involvement in the college literary magazine as well as the newspaper. When I "met up" with the group again, I was already very involved in writing, getting published in small publications, doing readings at local venues, such as coffee houses and on campus, as well as organizing readings at St. Clair Shores Public Library. I do remember being at events like the giant floating L sculpture, the Idaho Potato Boycott, and others; however, in Larry's version, Mike showed up at Ridgeway one day after Jeff, Mike, and I had already transferred to Oakland University and said, "I met this cool chick and invited her to the Ridgeway house." From there, I just started becoming a regular. Carl made a great effort to bring me into the group.


Ridgeway Collective's L sculpture, as part of a public performance


Ridgeway Collective's Idaho Potato Boycott

[Jeffrey Ensroth] Larry Pike [an English professor at Macomb] would sit cross-legged and read poems to us … he was kind of a hip "beat" guy. He opened up a lot of things we weren't aware of in terms of writers. He introduced us to Ginsberg, Kerouac, and a few others. After I got my bachelor's degree at Oakland University, I returned back to Macomb in the early eighties to take art classes from David Barr and Jim Pallas. After a few years I ran into Barr again doing a reading at Book Beat [in Oak Park, Michigan]. After that I began to hang out at David Barr's house once or twice a month to hear his stories.

[Carl Aniel] Pallas was a mentor to me. I have no drawing ability, but that didn't matter to Pallas. I had an art and design class, where the project I presented was a recording made on reel-to-reel quarter-inch mag tape, where I had spliced a twenty-foot loop of tape that went around the room, and then repeated the sounds that it was recording. Pallas encouraged creative thinking.

[Gregory Hallock] The way we related to Pallas and Pike is we used to go out drinking all the time. There was this bar called the Six Pence, and that had this medieval theme right across the street from the college. These instructors would go out drinking with us quite often.

[Jeffrey Ensroth] Barr, more than Pallas.


Jeff Ensroth directing M. L. Liebler's play Beneath Mans Integrity at a Macomb County bar.

[Gregory Hallock] And Pike drank more than both of them combined.

[ML Liebler] They had an incredible faculty at Macomb. It was akin to the faculty at Black Mountain College. Nobody knew it, because it was a community college. Bill Cox ran the program ... he was part of the original Detroit poets group.

[Carl Aniel] He also taught philosophy. Didn't we go over to see his press once?

[ML Liebler] I went with you too—it was called the Red Hanrahan Press.

[Gregory Hallock] Pallas brought in some great artists to lecture: Dana Atchley, also known as Ace Space, did a slide show and talk about all these weird artists he'd meet going cross country. T. R. Uthco was a group of people who made video and interacted with it. Ant Farm was another collective that came through—all because of Pallas. Around this time we all got degrees from Lowell Darling's "Fat City School of Finds Art." His motto was "I don't make art, I finds art."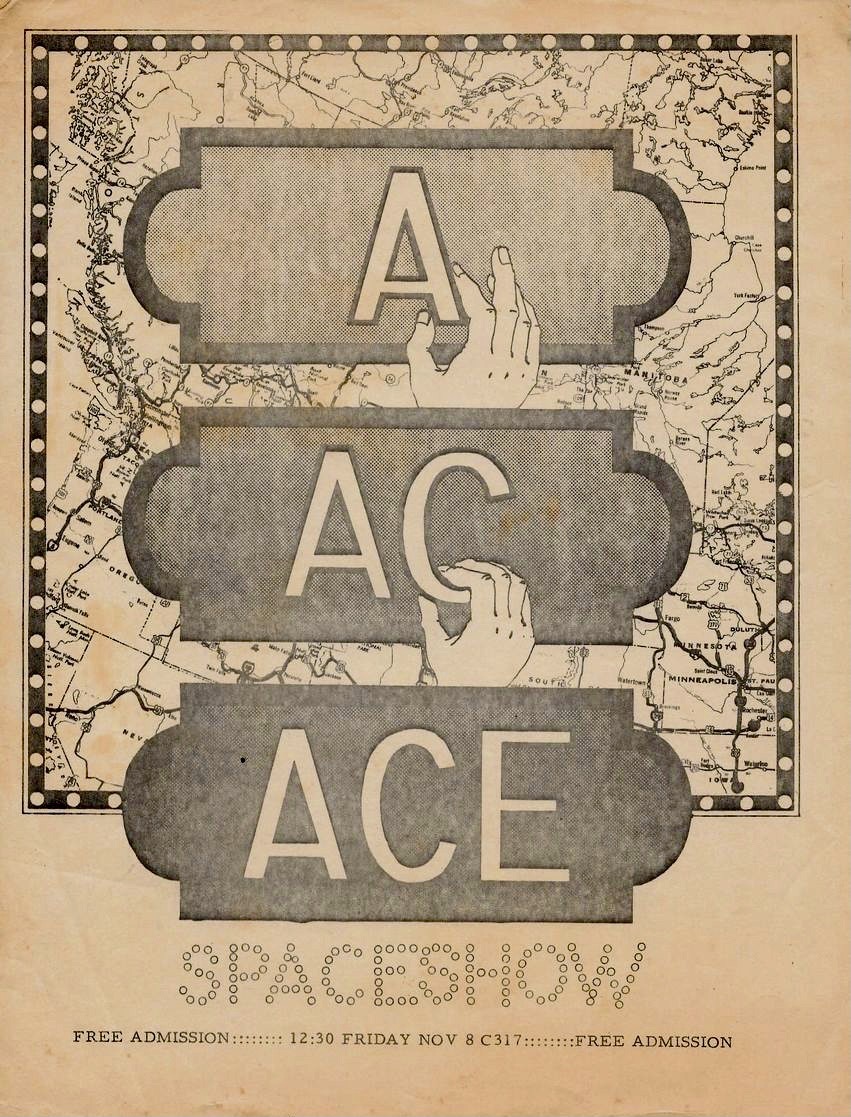 [Jeffrey Ensroth] I think Pallas turned us onto that.

[Carl Aniel] I was part of a student group that became the Community Production Club, and we recorded video productions in a very under-used TV studio that was housed in the basement of the library.

We did a video show called "The Evening Show" where M.L. interviewed himself. Those tapes were destroyed by Rick Sosha, the guy who ran the studio.

With our "club" we produced various shows and hooked up the college's arts events to be taped in the studio. We had an hour-and-a-half of Charles Bukowski doing poetry—he was so on, just fantastic. The jerk running the studios threw out all our tapes of John Cage, Bukowski, Robert Creeley, William Burroughs, Donna Brooks, Faye Kicknosway, etc. that we recorded. Eventually I was fired from my job for helping some friends send a Christmas gift (a box of cat shit) to the guy who ran the studio.

When Bukowski came to read he was looking for a drink but we were a dry campus. So I had a thermos I filled up with vodka and when he stood up to read I set the thermos down in front of him on a table and said 'If you get thirsty there's some water for ya' and he said 'damn don'tcha have any beers?' and I said, 'No, it's a dry campus' and Buk said 'Dry campus?' so I said, "Just sit down and try the water." He took a sip and said, "Ya know, you're okay kid. You're a-okay." That thermos was one of those Big Stanley's and it was empty by the time he was done reading.

[M.L. Liebler] You had to go get him an eight-pack of Pabst after the reading, remember?




[Gregory Hallock] In the beginning, Ridgeway was much more of a performance group. One of our best early performance pieces was Baptismal—Carl and I put it together.1 It was for Jan Woods' birthday, who was a friend of Carl's. We went to her house wearing our Sears and Roebuck's shirts because we were all working there at the time. We were the main crew in the maintenance department at Sears at the Macomb mall …

[Donna Penner] I think that it is worth mentioning that all members of Ridgeway, with the exclusion of myself (Carl, Larry, Jeff, Greg, and Mike, as well as John Marino, an original member who we can't seem to find) all worked at Sears together. I think much of this group's bonding was occurring there.

[Gregory Hallock] So, we came to Jan's house with all these sprinklers and lawn hoses. Then we hooked them up to her next-door neighbor's house. Someone knocked on her door and there we were in the front yard dancing a ballet with the sprinklers. Mike was in his car as usual and was playing a loud tape of Eddie Arnold's "Cattle Call"—and Carl yelled out a poem called "Black Angus Blues" written by another friend. The whole thing was super short.

[M.L. Liebler] It's true about some of the Ridgeway performance stuff. I wasn't as into it as much as Carl was, but I usually ended up being a part of it.

[Gregory Hallock] My favorite Ridgeway art show was "Where's Dada" that took place in June of 1974 outside the library at Macomb.

[Jeffrey Ensroth] We set up outside of the library and we hung artwork from the trees. We put mannequins up in the trees, dangled gas masks, and hung poems with matchbooks that said, Read this poem and burn it. Then there was the X-ray …

[Gregory Hallock] A friend of mine who worked at the hospital gave me an X-ray of someone who stuck an aerosol can up his ass. I guess he thought I'd like it. There was a frontal view of the can and a side view. I printed them on large photo paper and mounted them on wooden sandwich boards and called it Aerosol and Asshole. Someone walked around campus with the sandwich board handing out flyers and calling people to join us outside at the art show.


Gregory Hallock, Aerosol and Asshole

[Jeffrey Ensroth] It was an alternative to the sanctioned student art show happening inside the library at the same time. Carl went into that show and stole a piece of ceramic art. He brought it out to our show and destroyed it with a hammer.

We also had twine surrounding the trees and it created a barrier for the audience. The audience was roped inside the perimeter, and we heckled them for having the poor taste to see our exhibition.

[Gregory Hallock] At the end, we just destroyed everything. All this trash was lying in a heap on the ground. I returned and picked up a few things.

[Carl Aniel] We showed art with anyone we could grab, or thought were interesting. We only did a few shows a year and we should've done more, but we were never that organized. We'd just say, "Everybody get your art together and bring it over!"

[Gregory Hallock] That was it. Just like how Mickey Rooney did his plays.


M.L. Liebler

[Carl Aniel] I still don't know whose idea this was but I think it was Jeff's ... he came over to the Ridgeway house with a rope and a noose. Then they marched M.L. over to a tree and they got the rope over a branch, and they got M.L. to stand on a chair. And M.L. puts the noose around his neck. Hey Jeff, what were the charges against M.L.?

[Jeffrey Ensroth] You know, the usual: arrogance, hyperbole, grandstanding. This is like the trial—take two.

[Larry Wilson] I don't remember a thing. I think I was working at Sears that night. What happened?

[Carl Aniel] All of a sudden M.L. is laying on the ground and he's dead. Then someone kicks him and he made a sound.

[M.L. Liebler] I was reenacting the whole Jesus thing.

[Carl Aniel] Someone brought him back to life.

[M.L. Liebler] I just remember the whole trial lasted two minutes, someone said, 'You're guilty of this, this, and this, and you're gonna hang for it.





[Carl Aniel] At least nobody went through a second-story window. That was my biggest fear with the "midget wrestlers."

[ML Liebler] Weren't they your nephews?

[Carl Aniel] They were kids, so we billed them as "midgets" because we were totally inappropriate at all times. The Midwest Celebrity Death Match and the Rematch of the Psoriasis Brothers.

[M.L. Liebler] With performances by Special Ed and the Droolers and Wiggle Walk Willie.

[Gregory Hallock] That was my band at the time.

[Larry Wilson] That was when we shared a house by city airport at 11470 Minden Street.

[Carl Aniel] We got into boxing because of Muhammad Ali. We had five or six bouts. It was a long fucking night and the house was packed. My old man was one of the judges and he wouldn't give me one fucking point. He said, "Son, I gotta call 'em like I sees 'em."

[Donna Penner] We did at least two readings on 101.9 WDET-FM (Detroit Public Radio), I read at one of those. I also had Carl and Mike do a poetry reading at the middle school where I was student teaching in Rochester.

[Carl Aniel] WDET was everything for me back then; the fantastic jazz and blues shows, and then the weekly poetry show, but the experience taking that long elevator up to the heavens to the radio station was tremendously exciting. I very naively thought my writing was good, and I'm glad I thought that, or it would have prevented me from reading it on air.

That experience somehow made me feel legit. We had been reading poetry mostly to each other, and I hosted a poetry house party every six months or so, where a bunch of us sat around on the floor of the living room taking turns reading a poem, going in a circle, it was a wonderful time. I don't know if WDET is still in that same building, but there was something about the building that seemed extraordinary to me.



Carl Aniel, Found Cot with Tie

[Carl Aniel] We did an art show at Oakland University. M.L., Jeff, and Donna were students there and they learned about student groups from me: You start a group and the university supports it financially. At Oakland they began the Letters to Earth group—a literary group, and they brought Ridgeway on Tour there for an exhibition in the student union, but they evicted us. We exhibited a clip-on tie hung from an old steel cot frame, a kidney pillow, a sandwich on a turntable, and the usual drawings, paintings, and photography.

[Jeffrey Ensroth] Carl did Found Cot with Tie; it was an old cot he found in the garbage and hung a fake tie from it.

[M.L. Liebler] And we projected Buñuel's masterwork Un Chien Andalou on a loop—and that's what got the cops over there. The students were pissed-off about it—they came in and were like, "What the fuck is this?'" and the police asked us to leave.

[Carl Aniel] Sharon Van den Brook did a beautiful batik for that show. She was an incredible artist, worked with fabric and textiles—she showed a lot and was part of early Ridgeway. She was married to Larry.

[Donna Penner] We were also given access to an office at Oakland University where we could hang out together. Again, it seems we were a bit out of step with the mainstream and were met with a good deal of resistance and outright hostility. We were literally asked to leave. There seemed be an issue with the taste level of the exhibit.

[Gregory Hallock] Every time we had a show we would get wiped out. The Campus Queens would always come out and dress up for it.

[Carl Aniel] The Campus Queens decided Macomb College was a drab, ugly, monolithic tomb, and they wanted to spruce it up. So, they dressed mainly in black capes, and wore weird hats and costumes. One of the Queens has a medallion of LBJ around her neck and somehow she equated the Great Society to Mickey Mouse.




[Carl Aniel] We had a bonfire and showed movies at the Minden house. Betty Boop, Woody Woodpecker cartoons, and short classics.

[M.L. Liebler] We got these films out of the Dearborn library. It was the only place that had reels you could check out … We used the back window of the house as a projection booth.

[Carl Aniel] It worked out great.




[Gregory Hallock] Carl put out the first book. It was called Thundershowers Rain on Me, with poems by Carl Aniel and Jim Jarvi. The covers were mostly done on the press. He would also sneak inside the school at night and use their mimeopress to print the inside pages.

[Jeffrey Ensroth] Yeah, Larry was the only one of us good at organizing.

[Gregory Hallock] He wasn't an artist, but he put his finger in a beer bottle once and waved it around saying "This is Dada!" and we have pictures of that somewhere.

[Donna Penner] I still remember doing many of those covers.

[Gregory Hallock] Some of us did different covers, but the ones I made were from a woodcut or a linocut based upon a drawing Donna did.

[Jeffrey Ensroth] It was a symbol from the Hopi.

[Carl Aniel] I had these two giant "C" letters—and they became a graphic—but with that limited lettering, it made it all work …

Then the surrealist dogmatists tried to do that ASLEEP magazine thing and how did that turn out? Forty years later and not a single issue.

[Jeffrey Ensroth] There's a document started with the title, a card announcement, and a picture of Greg. That's the most progress we've made.




[M.L. Liebler] And Carl accepted a poem by Mike Dec. Every time he sees me, he says, 'Hey, is that ASLEEP issue coming out soon?'

[Carl Aniel] Well Dec sent us some good poems—and we said, "We love your stuff and you'll be in the first issue"—but then I had to leave town suddenly and moved to Chicago.

Greg and myself have always been hooked on Surrealism in our own way, and Jeff has come along for the ride. So, we are still in the formative stage with ASLEEP even after all these years, but the primary idea was to give view to the surrealist experience, or endeavor, in whatever art or shape it comes in. I've considered myself totally influenced by Surrealism, and still have no big qualms with the adventure.



---

View next: "Postcards and Mail Art: An Image Gallery," inside Make Room for Dada: A Dossier on the Ridgeway Collective by Cary Loren

This interview was transcribed and edited for length and clarity from group meetings online, in-person, and via email.


---

Lead image: Gregory Hallock, a self portrait. All photographs ©Gregory Hallock 1975/2023


---

Endnotes

1. The spelling of "Daptismal" in the image represents a printer's variation