In the Shadows of Der Imker (The Beekeeper)
---
By Cary Loren
She always walked under the arches of nights

And everywhere she went

She left

The mark of broken things.

–Paul Éluard, "Just and Small," translated by Mary Ann Caws



Beth Aviv became Cay Bahnmiller's friend and confidante in the early 1990s and wrote an essay "Just Call Me Lucky" for New Letters1 about her relationship with the artist, the assemblage Der Imker, and its association to Bahnmiller's violent rape at knifepoint in the Cass Corridor in 1993.

"Cay was close friends with Robert Lebow, and we were both mutual friends of Lebow's partner Grant Collins," says Aviv in a recent interview. "They lived in Huntington Woods. I first met Cay at Grant's fortieth birthday party, and when Grant died of AIDS in 1992, Cay and I sat together at the luncheon and shared a ride back to Detroit after his burial in Kalamazoo. That's when I really started to get to know her."2

The prosecution asked Bahnmiller whether she could gather any evidence of the rape to help their case, but the artist came up empty-handed; she did, however, retrieve a stray piece of wood in a field at the site of the attack. That became the main structural support for Der Imker, and signaled the rough-hewn assemblage style she adopted over the next decade.

Measuring nearly three feet square and nine inches deep, the mixed media construction c. 1993-1996, Der Imker (in the collection of the Detroit Institute of Arts), is a mysterious piece of symbolism and narrative with sections unseen and hidden. The assemblage is rough and damaged, feminine and fragile, thickly painted and collaged in layers with various embedded objects. At the top right are Victorian scenes: men and women in conversation and stagecoaches printed on torn blue cloth. Found objects include a watch, a light switch, an I-Ching coin, poker or roulette chips, spools of colored thread, old buttons, dollhouse pottery, and a small bird's nest. Coins of gambling and chance are affixed alongside tools of femininity, forming a circular pattern of ovals around a central figure, a white Meissen work of courtly porcelain.

Standing on its own plinth, dressed in aristocratic finery, the figurine is lightly chipped and painted. With short hair and bangs, it bears a slight resemblance to Bahnmiller. (A similar face can be seen in her series of recurring self-portraits.) The statuette has a chain around its waist and leg, pinned to the structure like Prometheus bound. A rabbit at its foot seems to nibble at the chain. A bright red toy shovel is attached underneath the figurine. In a niche above, a tiny toy child kneels beside a pan in the figure's direction.

The wooden board that Bahnmiller located at the site of her assault hangs at the top of the structure, painted with the message "Just Call Me Lucky," a note of survival. Beneath the support is a triangular-shaped cut through the work, revealing open space.

Layers of dark shiny paint and splashes of color cover the entire surface of Der Imker. From a conversation about the work, Aviv recollects Bahnmiller saying, "I am one lucky one aren't I, to still be alive, Everything is there."4 The artwork connects to nature, the community of bees, and the beehive, a model that Bahnmiller carefully thought about. The beehive was a recurring motif and object she documented in notebooks, dreams, and her memory of Robert Lebow's apiary-filled garden. Symbolic of love, industry, community, and creation, it was an ideal that Bahnmiller admired and revered. Adopting its form and honeycomb interior, Der Imker is a dystopian vision where the art collector, museum, and viewer have become beekeepers, extracting the pain of the interior, profiting from the artist's labor.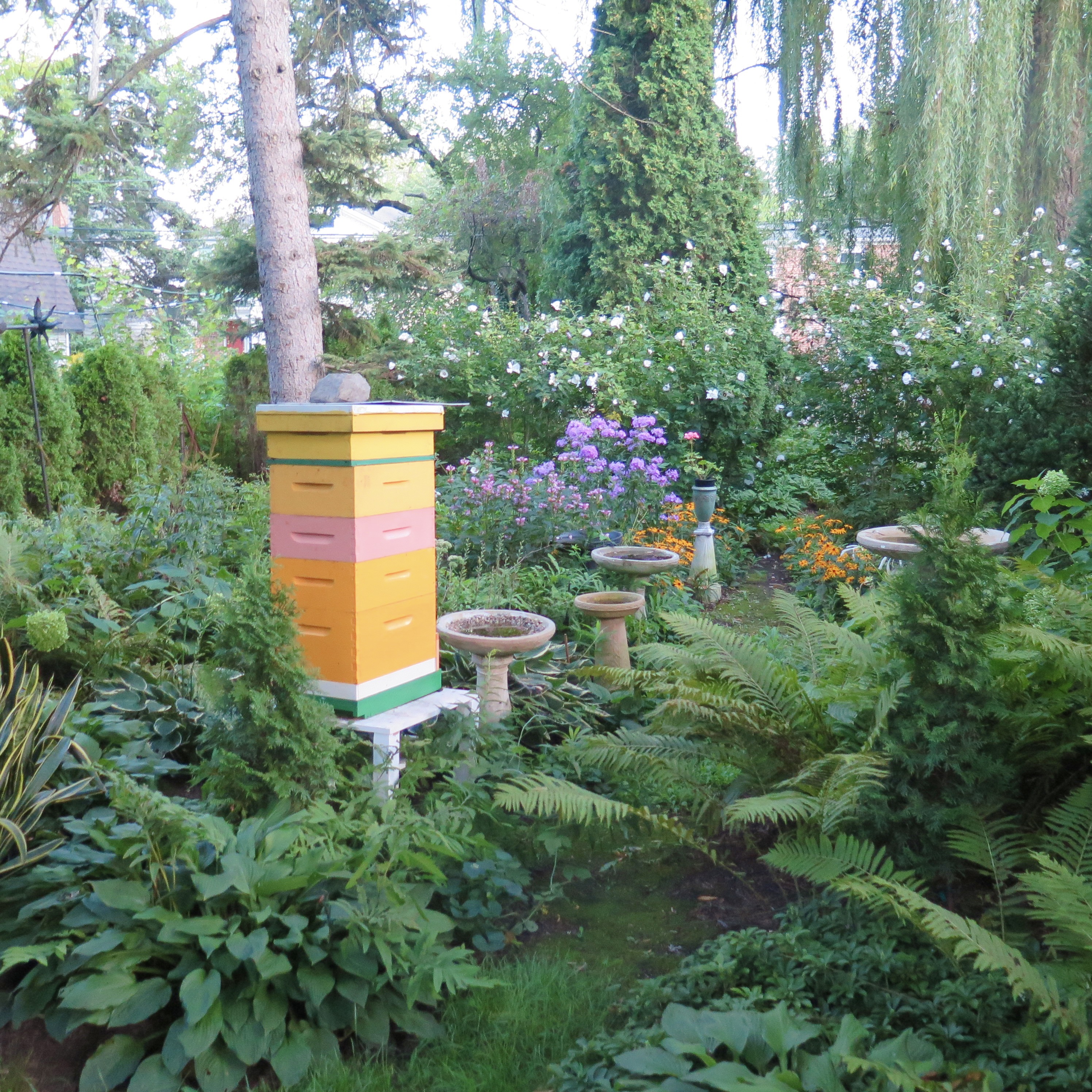 Creating space for small hidden objects was something Bahnmiller and her longtime companion, artist Gordon Newton, developed together; a secret location for private messages, a habit linked to their interests in secret agents, upholstery, and symbols. In the painted assemblage She Couldn't Sleep Unless She Was Thoroughly Tucked In (titled after a 1978 photograph by artist Marcia Resnick), Bahnmiller placed a hidden folding knife with its blade open beneath an erotic sketch of a model.5

On the back of Der Imker (view here) is a pocket filled with laminated poems by Emily Dickinson. Of them all, "She hideth Her the last" has a special relationship to the work, as a paradoxical poem about art and the mystery of death. Bahnmiller painted a pinkish-red color over the verse:


She hideth Her the last—
And is the first, to rise—
Her Night doth hardly recompense
The Closing of Her eyes—

She doth Her Purple Work—
And putteth Her away
In low apartments in the sod
As Worthily as We.

To imitate Her life
As impotent would be
As make of Our imperfect Mints,
The Julep—of the Bee—


Dickinson's words are also painted on side support panels: "Through the Dark Sod—as Education" references both the afterlife of art and the pain and experience behind creation. Der Imker is a record and a relic of the attack on Bahnmiller, addressing not only tragedy but something cosmic and universal: the struggle of all artists driven to create. It is a depiction made not by choice, but out of necessity, a masterwork that possessed the artist. The piece represents the final gasp of the Cass Corridor movement, which had been slowly fading since the retrospective finality of the Detroit Institute of Arts' seminal 1980 exhibition Kick Out the Jams.

In a statement from her application essay for the Rome Prize, Bahnmiller states the importance of her study on the urban landscape, and her qualifications: "I am the scholar of the dense image of urban formations." Bahnmiller saw Rome and Detroit connected through layers of texture over a richly haunted past: "The corridors and streets, expressways and bridges of life are as determinant as the concerted effort at the unrelated façade, so often hiding the true nature of Detroit."5

Following Bahnmiller's rape, Gilbert and Lila Silverman lent much-needed support. They had commissioned Der Imker for $10,000 through the Founders Society at the Detroit Institute of Arts, donating it to the museum in 1996, when it was completed. The commission gave Bahnmiller time and the freedom to create, and more importantly, the sense of confidence, value, and acceptance she needed.


---

Read next: The Helsinki Task Force: Communiqués and Mail Art, inside Doom and Glory in the Cass Corridor: A Dossier on Cay Bahnmiller by Cary Loren

Lead image, Cay Bahnmiller, Der Imker (The Beekeeper), between 1993 and 1996, mixed media construction on wood, 28 × 30 × 9.25 inches, courtesy Detroit Institute of Arts, Founders Society Purchase, Lila Silverman Tribute Fund, with funds from the Friends of Modern Art.
Fig. 2, Photo courtesy Robert Lebow, Huntington Woods.

Endnotes
1. Beth Aviv, New Letters, Vol. 80, Nos. 3&4, 2014, p.151. Aviv writes:
"After Der Imker was installed in the DIA, Cay felt good about getting the Dickinson poems up in a public space, unbeknownst to the masses. She recited by heart the poem she'd hidden in a plastic cell behind the painting: "Through the Dark Sod — as Education — / The Lily passes sure — /Feels her white foot — no trepidation — / Her faith — no fear." And she reveled in the shadow the massive piece cast around itself. To her, it was a kind of Lacanian mirror. If Jacque Lacan, a French psychoanalyst, believed mirrors supplied imaginary wholeness to a fragmented reality, Cay believed her fractured self was made whole in her paintings.
2. Interview with Beth Aviv, March 2021; unless otherwise specified, all quotes from Aviv are from this interview.
3. Aviv, New Letters, p.145:
"She seemed glad to have a visitor as she led me into her living room tacked with canvases and told me how returning from the Trumbull Market with a couple onions and a bag of lentils, she heard someone following. As the footsteps quickened hers did too until she was running. Hands grabbed and pulled her to the ground. She twisted and tried to knee her attacker in his groin. As he tore off her clothes and held her down and poised a knife over her throat, she begged him to use a condom, saying, "Please, I don't want to get AIDS." She ran home in ripped clothes, called the police and ended up in the back of a police car, music from the Kinks blaring as they cruised her neighborhood looking for the rapist before dropping her off at Receiving Hospital so she could get swabbed for her assailant's DNA. Her boyfriend picked her up from the hospital and drove her home where she showered and showered."
4. Ibid, p. 150:
"She collaged in the rape, the police sedan rides with "Starsky and Hutch," the Kinks' "Oh yeah, you really got me now, you got me so I can't sleep at night," the dirty Plexiglas line-up where she had to identify her assailant, her childhood in Argentina, her beloved nannie, Emily Dickinson poems, and the detritus as well as the gaseous glow of Detroit. Cay believed in the voodoo of the piece; making it was her way of poking those who had hurt her and blessing those who had sustained her."
5. The nude form in Bahnmiller;s painted assemblage She Couldn't Sleep Unless She Was Thoroughly Tucked In was painted over soon after the artwork was sold.
6. Cay Bahnmiller, Gentlemen of the Jury letter, Rome Prize Fellowships in Painting, 1985/86.