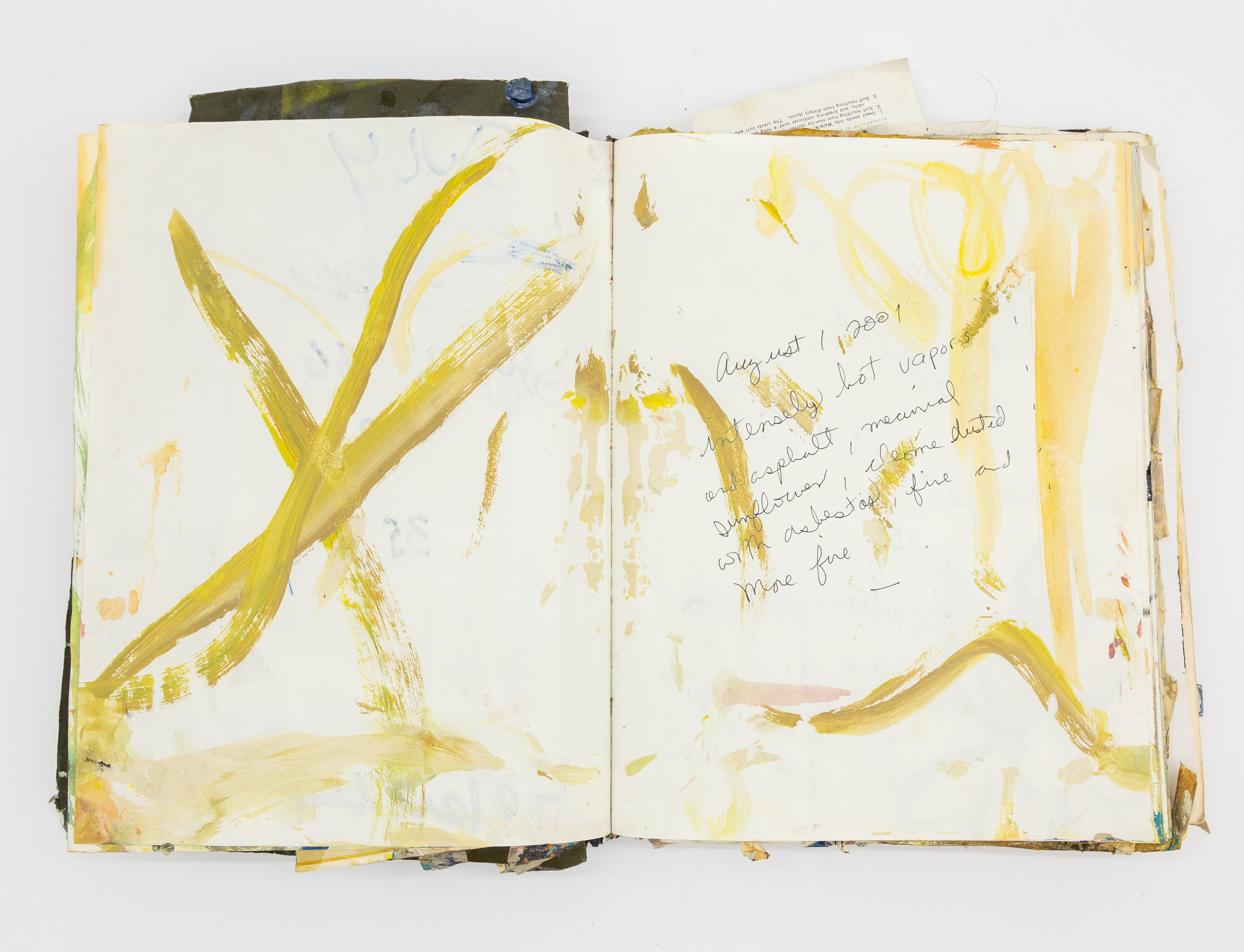 The Artist Books: A Catalog Project
---
By Cary Loren
In the dark times

Will there also be singing?

Yes, there will also be singing.

About the dark times
–Bertholt Brecht


Cay Bahnmiller shunned computers and read voraciously, holding poetry high above all else. Some favorite writers included Bertolt Brecht, Stéphane Mallarmé, Emily Dickinson, Blaise Cendrars, and contemporaries Charles Bernstein, Yehuda Amichai, Alice Notley and Mei-mei Berssenbrugge. In Anna Akhmatova, she borrowed her persona and hairstyle. Books were integral and quoted throughout her art; cutting out passages, collaging into books, replacing covers with her own designs. "If I read it over and over, it becomes a painting," Bahnmiller explained. "And I think that people should read more. And look at the screen less." She was a beautiful mess—and the most literate and brilliant artist working in Detroit.

Bahnmiller created an expansive series of artist books out of ledgers, auction catalogs, former books, journals, and cheap composition notebooks—all wonderfully transformed into jewel-like objects. She redesigned, collaged, glazed, and thickly painted them over. They have a timeless look, and one auction-house catalog includes the annotation: "50th Catalog Project 1990-2003." This gives a rough idea of the breadth of the collection that runs over 1,400 pages.

She often returned to the books, pasting in new entries and additions. Like other artworks, the contents were changeable and in flux. She was proud of them and often shared them with visitors to her home. Related to common scrapbooks, Bahnmiller used a variety of paper ephemera, including poetry, shopping lists, observations, photos, messages, and torn-out book pages.

Her appropriation of fine art auction catalogs, a service for displaying and selling valuable objects, is a satirical commentary on consumerism, art objects, and their afterlife. The covers are elaborate and typical of her painting work, while inside, she crossed out and circled artists' names in brushwork and added symbols.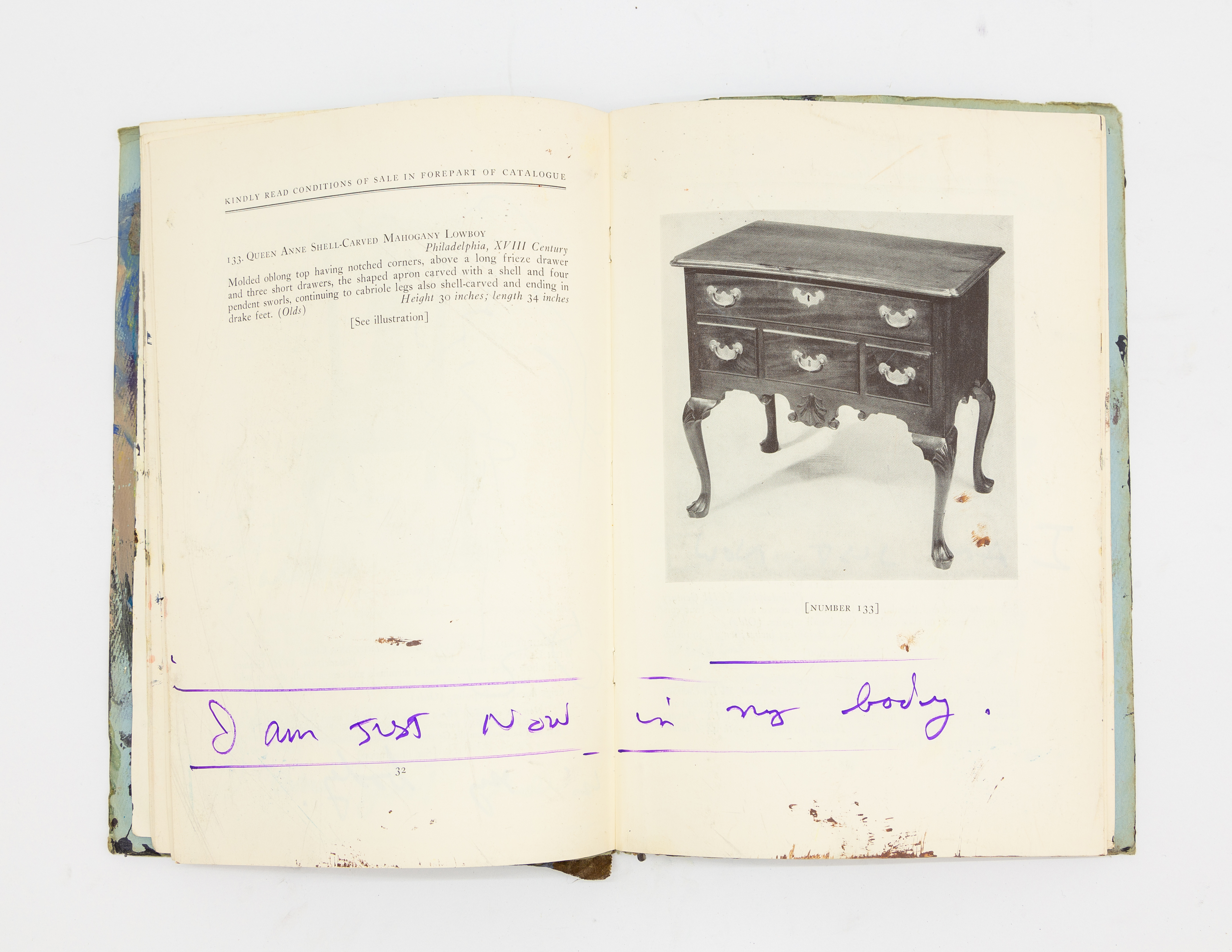 Fig. 2

The artist books are among Bahnmiller's least known, most insightful, and autobiographic works. Many contain what look to be handwritten diary entries and poems taken from other books and collaged inside. While most are dense with written work and remain stable, others are in various states of distress; fragile, taped-up, some hanging by a thread. The surface is rich, layered with paint and encaustic, stuffed with fabrics, ribbons, and receipts—together they constitute a unique series in the history of art and bookmaking.

The fragmented, scrapbook quality and their fragile dynamics make them difficult to display but are essential in understanding Bahnmiller's conceptual thinking. They are pure studio books, but also reveal an interior story. Francis Bacon or Peter Beard's paint-splattered studio books are similar, but Bahnmiller's are richer, offering more detail and depth, functioning beyond reference tools and decorative diaries. They comment on specific artworks, literary ideas, and personal history. They are messy but also tightly edited, with only a few looking unfinished. As a series, they represent the thoughts of a genius on the level of William Blake or van Gogh.

These works are a marvel to see and hold, recalling radical bookworks by Anselm Kiefer or Dieter Roth and are close relatives of Blake's illuminated editions. Bahnmiller's idea of the book was as a container for everything: a sacred place filled with strength, confessions, and focused chaos, connecting fragments of life with mysticism, poetry, and magic. They are unruly and wild visions with cluttered pages, cut into and taped down in layers, scribbled with multiple markings and Franz Kline brushstrokes.

The books are lacquered with modernist depictions of existential unrest. They use her own stylized language of geometric architectonic forms, graffiti-like cubist markings developed in the late '70s and seen earlier in high school flyers she designed. Line drawings of dice are another motif repeatedly used. Hand silhouettes, defacements of found photographs, and rhythms of the city fill the dystopian pages and explode with color.

Many oblique and repeated phrases, numbers, and bon mots wind through Bahnmiller's works, some in French or German, some written over stains and pools of tears:


Joe Brainard is one of my heroes, Piet at her Paris Atelier, Hertogen tankard, Coach, later a dog barks, La Casa Rosada, does one have to endure, hive out like a beehive, Augean Stables, Silver grey Ovals in Tears, there's no fucking privacy left, Eine Biene, commencè isi la premieres temps, Nein, Neva River, I am just now in my body, Overeasy Hoops, Sirens in Tandem, Love letters in the Sand, Philomele, Sabine, The House of Lanvin.

Quand vous et mort voyons a notes choser pres che la mer. (When you and death see things near the sea.) Les yeux amer pleurs. (Bitter eyes crying.)


A timeless beauty surrounds these visions, the painted collages on faded, yellowing paper and ledgers and auction guides from the '40s set them outside contemporary time. Clip art of aristocratic women, childhood pastimes, old illustration ads, antique pewterware, and the blurry mysteries of numerology are embedded among the paintings and drawings. Contradicting and negative tones are mixed in with quiet reveries of nature and poetry. Taking notice of flowers, bees, and sunlight: a heady romanticism and desire threads through the books where hell meets heaven: the hive mind. Where the universal meets the regional. This was Bahnmiller's Arcadian solo project, a dense masterwork of consciousness bound—a "new biography of Nature."


Fig. 3


Selections of Handwritten Notes and Diary Entries from Cay Bahnmiller's Artist Books


April 24, 1992

Her deep veined rose
rise up and out
Orange thread, tangerine hill

It was deafening, quick the chitter
of insects and frogs, wide
swamp bed, the color of oysters


July 1995 (a note from Gordon Newton to Cay Bahnmiller)

Hoop Poopa
"Little Poop"
—Go down to Eastern,
Get Yourself
A Good Knife
For Your Box/ Love, GN


June 25, 1997

I the lucky
EIDER HANDED VIOLET
Wings clip, on
coming Light. Night Lights
Launder Turn Dolce

Up the scale her voice
his, dusk chatters up
chimney, for this architecture
I have given myself the sea.


June 30, 1998

Five years to
regain a bit of the
life I once had. To go back
to dreams. Intense
summer heat […]
HOOPS, MED, obsession
WHITE HEAT. MEN,
The lack of fear
To anything. The
Desire to go fast
To speed in a car, run, fly.
[…] at the blue
tarp.


November 28, 1998

Over the years—
Fatigue of writing, of
Being witness. To oak
Trees and birches
And new paths.
Beat against the sobbing
les maudits
of yellow skin
possibilities, late November
sunlight, cars going over
manhole covers, all the while
cold clear sunlight not
unlike Eluard's light
the little just ones.

And I lose her like a little sunlight in cold water
And I see her light:
And I suffer
Men Shout, Hammer

a jogger wearily
plods up Park, chill
deep thuds. Ancient
thumps, grapevines
Grape Arbor, Blue tarps
reflect, stop my eyes.


II

Beehive
Notion of bees w/ sentiment?
Thought. The spent queens.
The last time I felt such
Peace, my life was taken
From me. Everyone gone.
Madness, car rides,
Elm alley DIMMING. It's
Beneficent cathedral


March 16, 2000

Lilly and I
Writing as if it mattered
At the cemetery
Spruce
3 kinds of prize cows
Photographs from long ago
A letter of Ann's and
Tremendous 4 o'clock
Loneliness sadness
Futile times
Bob Dylan on Gratiot
Past Chene
Thumping incredible guitar and drums


July 31, 2001

Birthday and golden Cleomes blue table
Ninety-five and the dust
In the city,
Little chirps in the Honeysuckle



---

View next: Cay Bahnmiller Image Gallery, from Doom and Glory in the Cass Corridor: A Dossier on Cay Bahnmiller by Cary Loren

Cary Loren is an artist and member of Destroy All Monsters. He is co-owner of Book Beat, an independent book shop in Oak Park, Michigan.


---

Lead image, Cay Bahnmiller, Untitled (artist book), 2001-2002, mixed media artist book and journal, 12.75 x 10 x 1.5 inches. Courtesy What Pipeline, Detroit.
Fig. 2 Cay Bahnmiller, Untitled (artist book), 2003, mixed media on auction catalog, 10.5 x 2.76 x .25 inches. Courtesy What Pipeline, Detroit.
Fig. 3 Cay Bahnmiller, Untitled (artist book), n.d., mixed media on clothbound notebook, 13.5 x 10 x 1.75 inches. Courtesy What Pipeline, Detroit.